If you're reading this, you've likely been judged.
Perhaps by family members, friends, or even strangers. Perhaps it was an unintentional slight, but maybe not.
Either way, the fact remains that being judged can be a painful thing—especially when the judgment is unfair or inaccurate.
So, here are 101+ quotes about people judging you.
Hopefully, they will help ease your pain and make you feel better about being judged.
Quotes About People Judging You
"You don't have to judge the whole world by your own standards. Not everybody is like you, you know." — Haruki Murakami
"Don't judge a man by where he is, because you don't know how far he has come." — C. S. Lewis
"No one should judge what I've done with my life, not unless they've been in my shoes every horrible day and every sleepless night." — Michael Jackson
"How people treat you is their karma; how you react is yours. Maxim for life: You get treated in life the way you teach people to treat you. If you change the way you look at things, the things you look at change. When you judge another, you do not define them, you define yourself." — Wayne W. Dyer
"The secret of attraction is to love yourself. Attractive people judge neither themselves nor others." — Deepak Chopra
"A warrior considers himself already dead, so there is nothing to lose. The worst has already happened to him, therefore he's clear and calm; judging him by his acts or by his words, one would never suspect that he has witnessed everything." — Carlos Castaneda
"If you didn't grow up like I did then you don't know, and if you don't know it's probably better you don't judge." — Junot Díaz
"Your judgments about another person say more about your own character than the character of the person you are pointing a finger at." –Alaric Hutchinson
"Never judge another knight without first knowing the strength and cunning of the dragons he fights." ― Richelle E. Goodrich
"When you feel that others are lacking and failing …. first assess the skill, style, quality, results, mindset, support, professionalism and spirit with which you yourself play the game." ― Rasheed Ogunlaru
"Some people think they are always right; they are always ready to judge those who they see as wrong!" ― Ernest Agyemang Yeboah
"People who hate liars are often judgemental. If they weren't so judgemental then people might be more likely to be honest and tell the truth. But, because they are so judgemental, people resort to lies to keep the peace." ― Blake Crouch Newman
"When someone judges you, it isn't actually about you. It's about them and their own insecurities, limitations, and needs." — Lulu
"If you find it necessary to judge someone by their past, don't be surprised when they find it necessary to put you there." — Unknown
"When we generalize and judge people quickly without taking ample time, we've chosen a shortcut. It's superficial of us, and a lack of wisdom." — Assegid Habtewold
"Judgement prevents us from seeing the good that lies beyond appearances." — Unknown
"Bad critics judge a work of art by comparing it to pre-existing theories. They always go wrong when confronted with a masterpiece because masterpieces make their own rules." — Robert Anton Wilson
"Stop judging how far people still have to go. Start celebrating how far they've come." — Unknown
"We can never judge the lives of others because each person knows only their own pain and renunciation. It's one thing to feel that you are on the right path but it's another to think that yours is the only path." — Paulo Coelho
"Don't make snap decisions, good or bad, about someone. Before forming an opinion, figure out what makes a person tick." — Merida Johns
"Judging others never made me feel better about myself. It only made me feel more lonely." — Marty Rubin
"I try not to live my life worrying about what others think. A core spiritual quality is nonjudgment, which is not just about not judging others, but also not living your life worried about others judging you." — Deepak Chopra
"The happiest people I know are evaluating and improving themselves. The unhappy people are usually evaluating and judging others." — Unknown
"It's up to God to do the judging. You haven't walked in my boots, so how are you going to judge me" — Aaron Neville
"The finest lesson I've learned with age is that all I need is a small team of comrades who inspire me, try not to judge me, and remind me when I'm judging myself." — Lake Bell
Quotes About Being Judged Wrongly
"By judging others we blind ourselves to our own evil and to the grace which others are just as entitled to as we are." — Dietrich Bonhoeffer
"Can anything good come of a backward way of thinking like judging someone based on skin color? No way." — Adam McKay
"I grew up with a strong set of values – and one was never judging someone by how much money they had." — Henry Paulson
"Stop trying to judge us based on what you know, and try judging on what's actually around you. You might be surprised by how many things we don't do the way you'd expect but that turn out to work just fine all the same. Think about it, won't you?" — Mira Grant
"If you are pained by external things it is not they that disturb you but your own judgment of them. And it is in your power to wipe out that judgment now." — Marcus Aurelius
"We judge ourselves by what we feel capable of doing, while others judge us by what we have already done." — Henry Wadsworth Longfellow
"No one likes feeling judged. Back off and let people live. We're all on some type of journey, all evolving and growing." — Unknown
"Our judgments judge us, and nothing reveals us, exposes our weaknesses, more ingeniously than the attitude of pronouncing upon our fellows." — Paul Valery
"Your job is not to judge. Your job is not to figure out if someone deserves something. Your job is to lift the fallen, to restore the broken, and to heal the hurting." — Unknown
"Don't pass judgement on others or you might be judged yourself." — Brian Cohen
"Some people come into our life as a blessing, while others come into our life as a lesson, so love them for who they are instead of judging them for who they are not." — Yolanda Hadid
"There's a story behind every person. There's a reason why they are the way they are. Think about that before you judge someone." — Unknown
"Judging others makes us blind, whereas love is illuminating. By judging others we blind ourselves to our own evil and to the grace which others are just as entitled to as we are." — Dietrich Bonhoeffer
"Whoever is busy trying to know himself has no time to notice the faults of others. Judge yourself and you will stop judging others." — The Nun Magdalina
"How would your life be different if…You stopped making negative judgmental assumptions about people you encounter? Let today be the day…You look for the good in everyone you meet and respect their journey." — Steve Maraboli
"The more we are away from God, the more we judge others. The more we are closer to God, the more we judge ourselves." — Prasanth Jonathan
"Faultfinders usually are not content with their own situations in life and therefore try to make others miserable by judging them."— Greg Gordon
"Beware, so long as you live, of judging men by their outward appearance."- Jean de La Fontaine
"Judging the things you do not understand is like a game of gambling where setbacks are often than success." — Amit Kalantri
"I know people can be judgmental and difficult. But if you shut yourself away from the world, you'll never see how beautiful it really is." — Imania Margria
"We judge ourselves by our intentions. And others by their actions." – Stephen Covey
"Judging others makes us blind, whereas love is illuminating." ― Dietrich Bonhoeffer
"If we judge others, it is because we are judging something in ourselves of which we are unaware." — John A. Sanford
"If you judge people you have no time to love them." — Mother Teresa
Stop Judging Quotes
"Don't concern yourself with the opinions of those who judge you. That is placing on them an importance they do not have." — Donna Lynn Hope
"Before pointing fingers make sure your hands are clean." — Bob Marley
"Judging is preventing us from understanding a new truth. Free yourself from the rules of old judgments and create the space for new understanding." — Steve Maraboli
"We evaluate others with a Godlike justice, but we want them to evaluate us with a Godlike compassion." — Sydney J. Harris
"Everyone has untold stories of pain and sadness that make them love and live a little differently than you do. Stop judging, instead try to understand."— Unknown
"Every time I judge someone else, I reveal an unhealed part of myself." — Unknown
"Criticism of others is thus an oblique form of self-commendation. We think we make the picture hang straight on our wall by telling our neighbors that all his pictures are crooked." — Fulton J. Sheen
"Not judging people is the fastest way to peace."— Jonathan Jackson
"When you are in the public eye, you have to protect yourself. There are so many people judging you. I just try to be myself." — Venus Williams
"Most people who are criticizing and judging haven't even tried what you failed at." — David Goggins
"Who am I to judge? We are all building our own worlds, growing our abilities, and forming relationships. How else do people learn but by experience and practice?" — Donna Goddard
"Never judge a book by its cover. At first glance, even Jesus appeared unimpressive." — Andrena Sawyer
"Why is the eye considered a reliable judge when it knows nothing of love or intelligence?" — Richelle E. Goodrich
"We are all flawed and creatures of our times. Is it fair to judge us by the unknown standards of the future?" — Carl Sagan
"If others are judgmental and do not appreciate your life's work, don't be dejected. Try to see the incapability of others who are unable to understand the things you understand, and appreciate the capability of seeing something which is not visible to others." — Ashish Mandlik
"I hate prejudice, discrimination, and snobbishness of any kind – it always reflects on the person judging and not the person being judged. Everyone should be treated equally." — Gordon Brown
"Judging is acting on limited knowledge. Learn the art of observing without evaluating." — Pushpa Rana
"For in the same way you judge others, you will be judged, and with the measure you use, it will be measured to you." — Unknown
"Keep in mind that the tendency to be judgmental – toward yourself or another person – is a good barometer of how anxious or stressed out you are. Judging others is simply the flip side of judging yourself." — Harriet Lerner
"I had this notion that everyone was staring at me and judging everything about me, from my appearance to the way I talk and everything." — Ricky Williams
"To judge a man by his weakest link or deed is like judging the power of the ocean by one wave." — Elvis Presley
"No accurate thinker will judge another person by that which the other person's enemies say about him." — Napoleon Hill
"We are very good lawyers for our own mistakes but very good judges for the mistakes of others." — Unknown
"People are too quick to pass judgment and too slow to self-reflect." — Unknown
Quotes About Judging People Without Knowing Them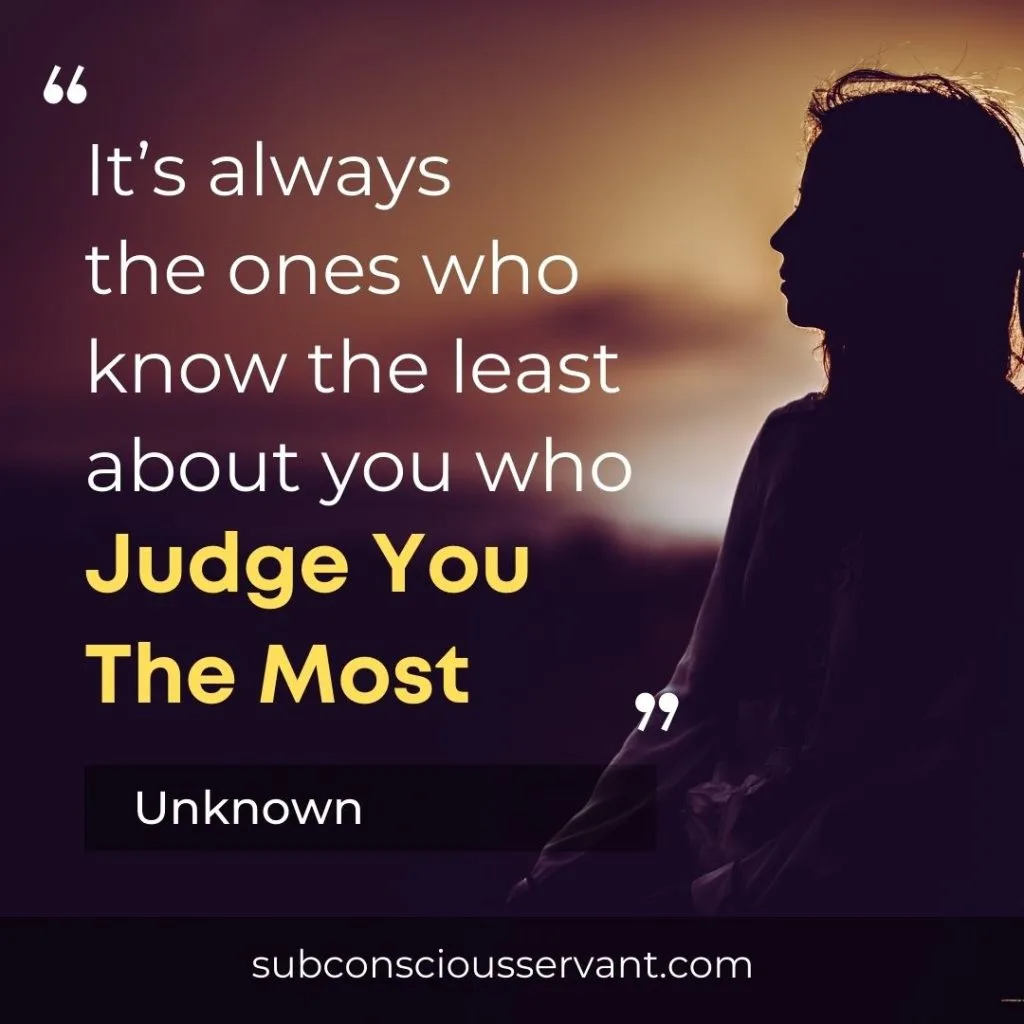 "It's always the ones who know the least about you who judge you the most." — Unknown
"It is well, when judging a friend, to remember that he is judging you with the same godlike and superior impartiality." — Arnold Bennett
"It's quite stressful knowing that every time you walk out the door, someone is going to be giving you a very good look up and down, judging everything you wear." — Emma Watson
"I have a lot of people judging my every move. It's important for me to not let it rule my life." — Lourdes Leon Ciccone
"Even the thinnest anything, has two sides to it. Let's seek to examine both sides to everything before we judge" — Dr. Jacent Mpalyenkana
"Never judge people based on their nationality, religion, race, gender, skin colour or look. Humans are all the same. They're God's loving children." — Lily Amis
"If someone is judging you without knowing the content of your character, don't listen to them." — Jazz Jennings
"Do not judge others. Be your own judge and you will be truly happy. If you will try to judge others, you are likely to burn your fingers." — Unknown
"Everything that irritates us about others can lead us to an understanding of ourselves." — Carl Jung
"We are all guilty of sin, error, and moments of sheer stupidity; none of us should be casting stones. The occasional arced pebble might be overlooked." — Richelle E. Goodrich
"You're being judged no matter what, so be who you want to be." — Unknown
"Let them judge you They will judge you and let them judge you. You just don't have to care. Let go of what others think about you and let yourself shine. Do your thing and keep rolling because you got this." — Charles E Hudson
"Judging is giving too much value on the surface and missing the value beneath" — Dee Dee Artner
"Everything we judge in others is something within ourselves we don't want to face." — Unknown
"When it comes to hating, gossiping, ignoring, ridiculing, holding grudges, or wanting to cause harm, please apply the following: Stop it!" — Dieter F. Uchtdorf
"Go a little easy on the people around you. Try to reel in judging thoughts. Think before you speak." — John Manning
"You want to remember that while you're judging the book, the book is also judging you."— Stephen King
"Why judge when it's only a matter of perception."— Haresh Sippy
"We should be rigorous in judging ourselves and gracious in judging others."— John Wesley
"Don't judge too harshly, for if your weaknesses were to be placed under your footsteps, most likely you would stumble and fall as well." — Richelle E. Goodrich
"We all judge. But when I realize that judgmental thoughts and actions are merely my primitive nature trying to "protect" me from being one-upped or making sure I am not one-upped, it makes it easier to laugh at my silliness." — Charles F. Glassman
"The more mistakes I make, the less I judge other people's mistakes" — Bayan Bahi
"When you meet a man, you judge him by his clothes; when you leave, you judge him by his heart." — Russian Saying
"Our society is used to judging content by its package and label." — Joanna Krupa
Bible Quotes on Judging People
"Judge not, and you will not be judged; condemn not, and you will not be condemned; forgive, and you will be forgiven." — Luke 6:37
"Do not judge by appearances, but judge with right judgment." — John 7:24
"Let no corrupting talk come out of your mouths, but only such as is good for building up, as fits the occasion, that it may give grace to those who hear." — Ephesians 4:29
"Brothers, if anyone is caught in any transgression, you who are spiritual should restore him in a spirit of gentleness. Keep watch on yourself, lest you too be tempted." — Galatians 6:1
"Open your mouth, judge righteously, defend the rights of the poor and needy." — Proverbs 31:9
"But the Lord said to Samuel, "Do not look on his appearance or on the height of his stature, because I have rejected him. For the Lord sees not as man sees: man looks on the outward appearance, but the Lord looks on the heart." — 1 Samuel 16:7
"Therefore do not pronounce judgment before the time, before the Lord comes, who will bring to light the things now hidden in darkness and will disclose the purposes of the heart. Then each one will receive his commendation from God." — 1 Corinthians 4:5
"Do not grumble against one another, brothers, so that you may not be judged; behold, the Judge is standing at the door." — James 5:9
"Or do you not know that the saints will judge the world? And if the world is to be judged by you, are you incompetent to try trivial cases?" — 1 Corinthians 6:2
"Above all, keep loving one another earnestly, since love covers a multitude of sins. Show hospitality to one another without grumbling." — 1 Peter 4:8-9
I'm a full-time freelance writer with a love for writing self-improvement, relationships, mental health, and lifestyle articles. Check out my other articles here on Subconscious Servant, or also Thought Catalog (that's where I express myself in a more creative form ✨).