Hope is one the biggest attributes humanity has; each of us, having hope in our hearts, we're able to move past great tragedies and emotional trauma and just move on to a brighter future and better days.
This is why it's important to nurture hope and gratitude in our hearts so that despite all life throws at us, we're able to be the best version of ourselves each and every day.
This article contains 75+ quotes about better days, and its purpose is to remind you that inside each of us, there's a glimmer, a flame called hope, that we can turn into a mighty forest fire of positivity and enthusiasm.
All we need is to see some words of encouragement and wisdom, and we'll be ready to dive back into daily life and make the best out of it.
Brighter Days Ahead Quotes
1. "Hope is like the sun, which, as we journey toward it, casts the shadow of our burden behind us." – Samuel Smiles
2. "Have faith; you are capable of great things."
3. "Every situation in life is temporary, so when life is good, make sure you enjoy and receive it fully. And when life isn't so good, remember that I will not last forever and better days are on the way." – Jenni Young
4. "The good old days were never that good, believe me. The good new days are today, and better days are coming tomorrow. Our greatest songs are still unsung." – Hubert H. Humphrey
5. "If you wish to live to see better days, then you must endure the bad days." – Abdul Kalam
6. "Every day that we wake up is a good day. Every breath that we take is filled with hope for a better day. Every word that we speak is a chance to change what is bad into something good." – Walter Mosley
7. "The good old days were never that good, believe me. The good new days are today, and better days are coming tomorrow. Our greatest songs are still unsung." – Hubert H. Humphrey
8. "Hope is the thing with feathers that perches in the soul and sings the tune without the words and never stops at all." – Emily Dickinson
9. "Hope lies in dreams, in imagination, and in the courage of those who dare to make dreams into reality." – Jonas Salk
10. "Be strong, because things will get better. It might be stormy now, but it never rains forever."
11. "Always remember that your present situation is not your final destination. The best is yet to come."
12. "Isn't it nice to think that tomorrow is a new day with no mistakes in it yet?" – L. M. Montgomery
13. "Through every dark night, there's a bright day after that, so no matter how hard it get, stick your chest out, keep your head up and handle it." – Tupac Shakur
14. "Take a deep breath. It's just a bad day, not a bad life."
15. "Bad days build better days."
16. "Hope can be a powerful force. Maybe there's no actual magic in it, but when you know what you hope for most and hold it like a light within you, you can make things happen, almost like magic." – Laini Taylor
17. "The very least you can do in your life is figure out what you hope for. And the most you can do is live inside that hope. Not admire it from a distance but live right in it, under its roof." – Barbara Kingsolver
18. "Every day is different, and some days are better than others, but no matter how challenging the day, I get up and live it." – Muhammad Ali
19. "As you wait for better days, don't forget to enjoy today, in case they've already started." – Robert Breault
20. "Buying flowers is not just a way to bring home beauty. It's an expression of confidence that better days are coming. It's a defiant finger in the face of those naysayers who would have you believe your fortunes will never improve." – Pearl Cleage
RELATED: Weather Life's Storms: 100+ When it Rains, it Pours Quotes
Praying For Better Days Quotes
21. "Even though you're fed up, you gotta keep your head up, try to keep the faith and pray for better days." – Tupac Shakur
22. "May the bridges I burn today light the way for a better tomorrow."
23. "During difficult times, never give up hope for better days." – Halim Ozkaptan
24. "Cheers to better days!" – Nancy B. Urbach
25. "Prayer is not asking. It is a longing of the soul. It is daily admission of one's weakness. It is better in prayer to have a heart without words than words without a heart." – Mahatma Gandhi
26. "Do not pray for an easy life, pray for the strength to endure a difficult one" – Bruce Lee
27. "The function of prayer is not to influence God, but rather to change the nature of the one who prays." – Soren Kierkegaard
28. "If the only prayer you said was thank you, that would be enough." – Meister Eckhart
29. "Don't worry if people think you're crazy. You are crazy. You have that kind of intoxicating insanity that lets other people dream outside of the lines and become who they're destined to be." – Jennifer Elisabeth
30. "The more you pray, the less you'll panic." – Rick Warren
RELATED: 75+ Self Sabotage Quotes To Help Rise Above Inner Conflict
Better Days Ahead Quotes
31. "It's okay to be a glowstick, sometimes we need to break before we shine." – David Vo
32. "Being brave sometimes looks like taking one step after another on an unknown path." – Nidhi Kush Shah
33. "If you feel like you're losing everything, remember that trees lose their leaves every year, and still they stand tall and wait for better days to come."
34. "There are far, far better days ahead than any we leave behind." – C. S. Lewis
35. "The enemy fights the hardest when you are closest to your breakthrough. Know that your best days are ahead and no weapon formed will prosper." – Germany Kent
36. "There are more glorious days ahead, this should be your joy for today." – Lailah Gifty Akita
37. "For every nonsense that is written, there is a sense behind the 'non'. Not until we go behind the 'non', we shall least see the sense. If we stand in front of the nonsense, the 'non' shall always face us. It may only take a step taking to go behind the 'non' to see the sense the 'non' is obstructing. There are so many people who quit so quickly just because they look at the non in front of the sense and they conclude that sense can never come after 'non'." – Ernest Agyemang Yeboah
38. "Bad days always promise a better day tomorrow." – Arieana E.
39. "Level up. Study the Word and Have faith, if all you want is better days ahead." – Gift Gugu Mona
40. "Hope… Hope in the face of difficulty. Hope in the face of uncertainty. The audacity of hope! In the end, that is God's greatest gift to us…A belief in things not seen. A belief that there are better days ahead." – Barack Obama
41. "I do the very best I can to look upon life with optimism and hope and looking forward to a better day." – Rosa Parks
42. "We all have negative days, but that doesn't mean we are pessimistic. We all do stupid things, but that doesn't mean we are stupid. It's important to be able to distinguish between what happens to us and who we are, and look forward with hope for new and better days ahead!" – Lindsey Stirling
43. "Speak quietly to yourself and promise there will be better days. Whisper gently to yourself and provide assurance that you really are extending your best effort. Console your bruised and tender spirit with reminders of many other successes. Offer comfort in practical and tangible ways – as if you were encouraging your dearest friend. Recognize that on certain days the greatest grace is that the day is over and you get to close your eyes. Tomorrow comes more brightly." – Mary Anne Radmacher
44. "When it's dark enough you can see the stars." – Charles A. Beard
45. "Bad nights lead to better days." – Ryan Adams
46. "There is no better day than today to do the things you've been putting off. Take action; it's the only way to change your life!" – Hal Elrod
47. "You can't get to no better days unless you make it through the night." – Dianne Reeves
48. "The days that I keep my gratitude higher than my expectations, I have really good days." – Ray Wylie Hubbard
48. "Recognize that on certain days the greatest grace is that the day is over and you get to close your eyes. Tomorrow comes more brightly." – Mary Anne Radmacher
49. "What is the use of living, if it be not to strive for noble causes and to make this muddled world a better place for those who will live in it after we are gone? How else can we put ourselves in harmonious relation with the great verities and consolations of the infinite and the eternal? And I avow my faith that we are marching towards better days. Humanity will not be cast down. We are going on swinging bravely forward along the grand high road and already behind the distant mountains is the promise of the sun." – Winston Churchill
50. "Those who don't know how to suffer are the worst off. There are times when the only correct thing we can do is to bear out troubles until a better day." – Ming-Dao Deng
RELATED: 67 Quotes About Feeling Worthless That Most Can Relate To
Quotes About Hope for Better Days
51. "There's no anger ever in a spiritual. There's always the dream of a hope of a better day coming. That God understands the troubles that I'm experiencing." – Jessye Norman
52. "When I was young, my father used to say, 'If you are alive, there is hope for a better day and something good to happen. If there is nothing good left in the destiny of a person, he or she will die.' I thought about these words during my journey, and they kept me moving even when I didn't know where I was going. Those words became the vehicle that drove my spirit forward and made it stay alive." – Ishmael Beah
53. "You have to find a way to not become bitter and live within the parameters of the situation and laugh your way through it…and you hope for a better day for the next generation." – Yvette Nicole Brown
54. "Blessed be the slot players for theirs is the hope of a better day dawning." – Frank Scoblete
55. "The trick is to enjoy life. Don't wish away your days, hoping for better ones ahead. The grand and the simple. They are equally wonderful." – Marjorie Pay Hinckley
56. "If you were a quitter you would have given up on life a long time ago. The fact that you're still here proves that you're a fighter with hopes of better days." – Sonya Parker
57. "I cannot make my days longer so I strive to make them better." – Paul Theroux
58. "When you have such a good workout, it clears everything up mentally, physically, and you just have a better day." – Minka Kelly
59. "And once the storm is over, you won't remember how you made it through, how you managed to survive. You won't even be sure, whether the storm is really over. But one thing is certain. When you come out of the storm, you won't be the same person who walked in. That's what this storm's all about." – Haruki Murakami
60. "Remember that failure is an event, not a person." – Zig Ziglar
61. "When you come to the edge of all that you know, you must believe one of two things: There will be ground to stand. Or you will grow wings to fly." – O.R. Melling
62. "I am prepared for the worst, but hope for the best." – Benjamin Disraeli
63. "We must accept finite disappointment, but never lose infinite hope." – Martin Luther King Jr.
64. "All human wisdom is summed up in two words; wait and hope." – Alexandre Dumas
65. "All kids need is a little help, a little hope and somebody who believes in them." – Magic Johnson
66. "To live without Hope is to cease to live." – Fyodor Dostoevsky
67. "I find hope in the darkest of days, and focus in the brightest. I do not judge the universe." – Dalai Lama
68. "There is no medicine like hope, no incentive so great, and no tonic so powerful as expectation of something better tomorrow." – Orison Swett Marden
69. "The human heart has treasures, in secret kept, in silence sealed; the thoughts, the hopes, the dreams, the pleasures, whose charms were broken if revealed." – Charlotte Bronte
70. "A whole stack of memories never equal one little hope." – Charles M. Schulz
RELATED: You Are Worth It: 101+ Quotes On Putting Yourself First
Memorable Better Days Quotes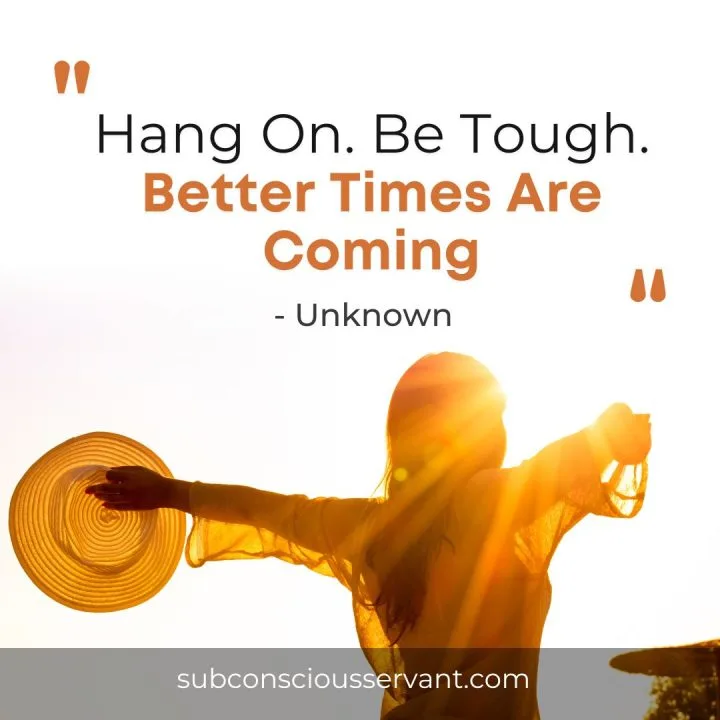 71. "Always remember that better days are ahead – if not in this life, in the next." – Barbara Johnson
72. "There's no anger ever in a spiritual. There's always the dream of a hope of a better day coming. That God understands the troubles that I'm experiencing." – Jessye Norman
73. "Hang on. Be tough. Better times are coming."
74. "It's all about getting better and controlling the things that you can control, which is getting better day to day." – Robbie Lawler
75. "Only he who has seen better days and lives to see better days again knows their full value." – Mark Twain
76. "Have faith in tomorrow, for it can bring better days. Never wish for yesterday, for it has gone its separate ways. Believe in today, for it's what you're living now." – Tonya K. Grant
77. "I'm slower and some days are better than others, but I'm a fighter." – Richard Pryor
78. "If you improve 1% a day, then in 100 days, guess what? You're 100% better."
79. "You're ready new energy is entering your life. Changes are happening for you. Things are getting better. Everything is aligning. Blessings are coming."
80. "God changes caterpillars into butterflies' sand into pearls and coal into diamonds using time and pressure. He's working on you too." – Rick Warren
What Are Your Favorite Better Days Quotes?
Which one of these inspiring quotes about better days gave you the most hope and strength?
Sometimes we just need that one small push from the universe to keep on breathing, keep on living and keep on fighting until the sun rises again.
Nurturing hope in your heart and staying alive is sometimes the best and most you can do, and you should give yourself credit for it.
Alan is the founder of Subconscious Servant. He has a passion for learning about topics such as spirituality and the metaphysical world. The thing he loves to explore most though is manifesting with the law of attraction ✨.