Feathers are an important spiritual symbol- it is said that they are sent to us by angels or spirit guides and that they can hold messages from the spirit world.
If you want to understand more about the symbolism of feathers, then have a look at the following feather quotes.
They can be used as catchy Instagram captions, or if you're writing about angels or feathers – then these quotes can also be useful for you.
Feathers are seen as a powerful spiritual symbol in certain cultures – like the American Indian Culture, for example.
In this culture, people would collect feathers and decorate their hair, clothes, objects, or weapons with them.
There is a huge symbolism regarding the color of the feather, as Amerindians believed that feathers of different colors represent different things.
You can find more about the symbolism of different feather colors in my article "Feather Meanings: 12 colors and their Spiritual Significance", which you can read here.
For example, Amerindians believed that black feathers were a message about being protected by high Divine Powers, grey feathers were about finding balance and not seeing things in black and white, blue feathers were messages from your Higher Self, and so on.
Thus, feathers are important in certain cultures of the world and are seen as important spiritual symbols and tools for esoterical practices.
Feathers are so iconic that they are even seen as symbols in fashion.
Have a look at the following quotes about feathers, which are relatable to many different topics.
You will find spiritual feather quotes, some quotes with a more psychological meaning, some from the area of fashion, and so much more.
Feather Quotes to Help You Connect with Your Soul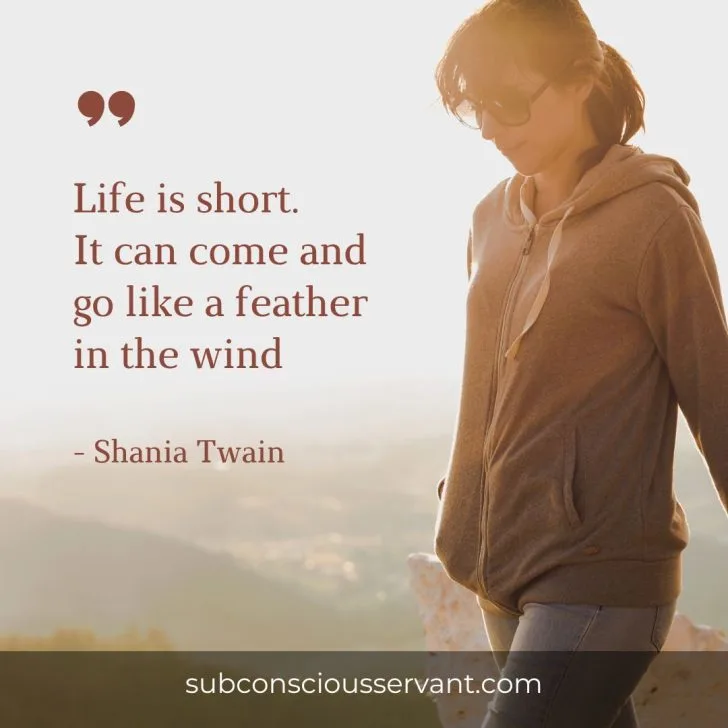 1. "Life is short. It can come and go like a feather in the wind." – Shania Twain
2. "A heart without dreams is like a bird without feathers." – Suzy Kassem
3. "I have to remind myself that some birds aren't meant to be caged. Their feathers are just too bright." – Stephen King
4. "I am a free man. I feel as light as a feather." – Javier Perez De Cuellar
5. "The soul, light as a feather, fluid as water, innocent as a child, responds to every movement of grace like a floating balloon." – Jean-Pierre De Caussade
6. "Like a feather in a dust storm, with no direction, The Raven flies through life, helpless and omitted Until night declares, and the wind expires. Then it flies to the land of stones and etchings And becomes an Ember, breaking away." – Jessica Sorensen
7. "The day is done, and the darkness Falls from the wings of Night, As a feather is wafted downward From an eagle in his flight." – Henry Wadsworth Longfellow
8. "Flying without feathers is not easy: my wings have no feathers." – Plautus
9. "Feathers fall; soft as a song, light as morning dreams." – Eirene Evripidou
10. "Paint the flying spirit of the bird rather than its feathers." – Robert Henri
11. "Not all the wings are made up of feathers, my dear. Some are made of glass too." – Akshay Vasu
12. "If you do anything well, gratitude is lighter than a feather; if you give offense in anything, people's wrath is as heavy as lead." – Plautus
13. "Life consists in molting our illusions. We form creeds today only to throw them away tomorrow. The eagle molts a feather because he is growing a better one." – Elbert Hubbard
14. "Hope is the thing with feathers that perches in the soul – and sings the tunes without the words – and never stops at all." – Emily Dickinson
15. "Our birthdays are feathers in the broad wing of time." – Jean Paul
16. "The feather was a thing; when I was a kid, we used to find feathers around the house, and whenever we found them, my mum used to say it was my nan leaving them around for us to find, so that was quite sweet." – Liam Payne
17. "Because the heart beats under a covering of hair, fur, feathers, or wings, it is, for that reason, to be of no account." – Jean Paul
18. "A bird with great feathers may have nothing else! Anyone who is deceived by dazzling feathers can find themselves in a pale world!" – Mehmet Murat Ildan
Feather Quotes on the Weight of Words and Actions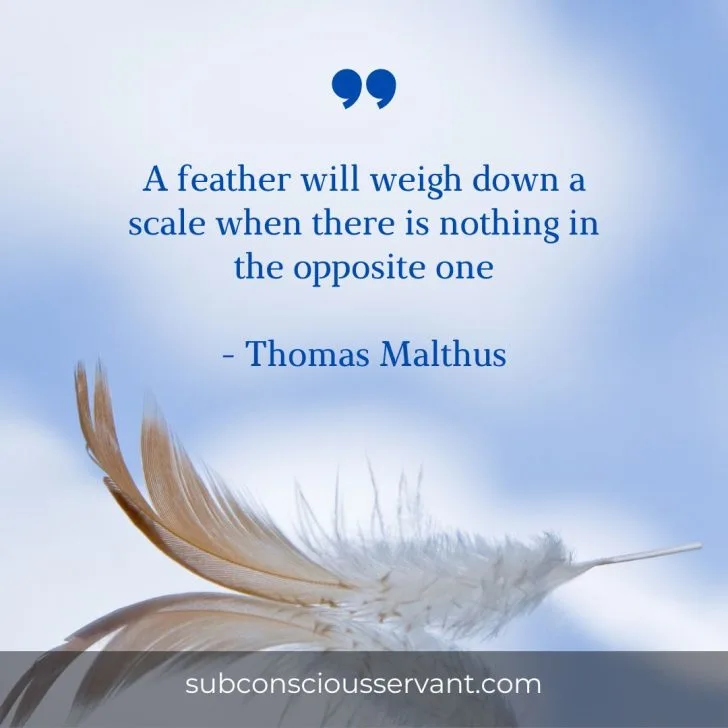 19. "Sometimes you have to stand up for what's right, and sometimes that may be ruffling feathers and may be frowned upon by everyone else, but at the end of the day, in your heart, knowing you're on the right side of history and knowing that you did the right thing, good or bad, you have to live with that."- George Hill
20. "If you want to know how far gossip travels, do this – take a feather pillow up on a roof, slice it open, and let the feathers fly away on the wind. Then go and find every single feather and re-stuff the pillow." – Rebecca Pidgeon
21. "A feather will weigh down a scale when there is nothing in the opposite one." – Thomas Malthus
22. "Men think highly of those who rise rapidly in the world, whereas nothing rises quicker than dust, straw, and feathers." – Lord Byron
23. "Movement is most of what a bird is. When they're dead, they're only feathers and air." – William Wharton.
24. "Is education possibly a process of trading awareness for things of lesser worth? The goose who trades him is soon a pile of feathers." – Aldo Leopold
25. "I think women have long been defined by their roles as procreators and wives, and we're expected to serve, take care of, say 'Yes,' and not ruffle any feathers. Women, in particular, are sometimes not allowed to consider who they are outside of the roles that they play." – Carrie Coon
26. "All around me, I saw people who were taught by their parents, as I was, to just toe the line, not ruffle the feathers, not rock the boat too much and just put your head down, do your work, and that's it. And I think that as a community, we're reaching the limitations of that kind of thinking." – Simu Liu
27. "I do love one-upmanship sometimes, like when you see kids breakdancing and who can do the best tricks. It's common; it's in our nature as animals, like the birds of paradise who've got the best feathers and that sort of stuff. But it's fun when it's impulsive, and it's about fun." – Bjork
28. "I'm one of those people who was taught not to ruffle any feathers. Of course, I have no problem ruffling feathers." – Anne Heche
29. "I think inherently, a little bit, I'm a bit of a pleaser, and I want people to like me and be nice, and not to ruffle feathers and just make everybody happy and stuff. It's a personality flaw." – Paolo Bacigalupi
30. "I practically lived in the woods when I was a kid, avoiding grown-ups and my dysfunctional family, pretending I was half-wolf, a feral child who napped in nests made out of ferns, ate wild blueberries, and wove sticks and feathers into her hair." – Jennifer McMahon
31. "When you make the decision to call somebody out of the blue and say you want to talk to them about the worst thing that has happened to you, and I'm going to turn it into a cartoon… you're bound to ruffle some feathers or turn people off." – Keith Maitland
32. "Any time you make a big statement about something in the world, you are bound to ruffle some feathers." – Nuseir Yassin
33. "That's the beauty of it. Have you seen the contraptions these magicians build to accomplish the most mundane feats? They are a bunch of fish covered in feathers trying to convince the public they can fly; I am simply a bird in their midst." – Erin Morgenstern
34. "The haft of the arrow had been feathered with one of the eagle's own plumes. We often give our enemies the means of our own destruction." – Aesop
35. "Hope may or may not be a Thing with Feathers. But it is definitely a Thing with Claws." – Niall Williams
Inspiring Feather Quotes to Help You Soar to New Heights
36. "May the hinges of friendship never rust, nor the wings of love lose a feather." – Edward Ramsay.
37. "I don't have feathers, but I feel like a bird sometimes." – Yves Rossy.
38. "Feathers are light, but when they come together, they become heavy!" – Mehmet Murat Ildan.
39. "My problems are as light as a feather because god carries them for me." – Skylar Laine
40. "Feathers shall raise men even as they do birds towards heaven: That is by letters written with their quills." – Leonardo Da Vinci.
41. "A brain of feathers and a heart of lead." – Alexander Pope
42. "Praises for our past triumphs are as feathers to a dead bird." – Paul Eldridge
43. "I'm very bold and say what I feel. That doesn't mean I ruffle feathers. It means I'm being honest." – Mya
44. "A mourning dove's beauty is an understated one: the colors of its feathers range through various shades of gray and drab violet, often with a striking splash of turquoise around the eyes." – Jonathan Miles
45. "Birds, unlike us, lack countenance. But they make us smile when they connect the sky with their dazzling feathers. They amaze us with how their great feathers can find themselves in this pale world. Where the visual of them whispers, "Make your new beginning, beloved." – Susan Ligori
46. "Birds of the same feathers flock together, and when they flock together, they fly so high." – Cecil Thounaojam
47. "It's not enough to have the feathers. You must dare to fly!" – Cass van Krah
48. "If you trust yourself much, you can change your life easier just like you can change places of the feathers with a simple blow!" – Mehmet Murat ildan
49. "Fine feathers, they say, make fine birds." – Isaac Bickerstaffe
50. "If feathers don't ruffle, nothing flies." – Jessica Raine
51. "Feather by feather the goose is plucked." – John Ray
RELATED: Find Peace In Letting Go: 101+ Quotes On Detachment
Angelic Feather Quotes
52. "Feathers appear when the angels are near."
53. "I was so blessed. The first person I gave my heart to was an angel who plucked the feathers off his wings and built a nest for it." – Kamand Kojouri
54. "Chamomile is feathers from the wings of seraphim angels, thrown as an offering to the earth for each bird hunted in the sky." – Corina Abdulahm-Negura
55. "An angel's feather is the lightest thing in the world, yet it carries the heaviest of messages"
56. "A feather is an angel's reminder that they are always with us."
Feather Quotes for the Fashion-Forward Mind
57. "When you're surrounded by feathers and sequins and ridiculous Lycra outfits, it's impossible not to have a smile on your face." – Catherine Martin
58. "I collect firearms, and I've got a Winchester, an Indian rifle. It has tacks for every warrior that was shot, like notches on a pistol, and it's got feathers and beads hanging off it. It's like a work of art." – Joe Perry
59. "I'm always in favor of more glamour. I embarrass my children, I think. I am the lady in feathers in the carpool line." – Mia Sara
60. "A friend of mine has a big farm in the desert, and she picks up feathers and roadkill for me, then makes it into clothes. I think it's cool to wear roadkill. If I died and somebody wanted to wear my teeth around their neck to VMAs, I'd feel honored." – Kesha
61. "My friends call my style 'old man chic.' I wear loafers and stylish sweatpants. I love to stay comfortable, so I definitely funk it up, but I'm always comfortable. I wear lots of hats and feathers, and I kind of have a little obsession with Native American jewelry."- Hayley Kiyoko
Lighthearted Feather Quotes to Bring a Smile
62. "Imagine if birds were tickled by feathers. You'd see a flock of birds come by, laughing hysterically!" – Steven Wright.
63. "There's nothing better than sinking into my feather pillows after a hard day's work." – Kirsten Prout
64. "Sticking feathers up your butt does not make you a chicken." – Chuck Palahniuk
65. "I don't know if it's animalistic or what, but men become like peacocks with their feathers up when women are around." – Bradley Cooper
66. "I make body chains that come from the neck, cross in the middle of your chest, then go around your waist. I mix them with feathers for a gypsy, bohemian style." – Sofia Boutella
Short and Sweet Feather Quotes
67. "I am a feather for each wind that blows." – William Shakespeare
68. "A willing heart adds feather to the heel." – Joanne Baillie
69. "Words and feathers the wind carries away." – George Herbet
70. "Hope is a thing with feathers." – Emily Dickinson
71. "It is not only fine feathers that make fine birds." – Aesop
72. "Feathers predate birds." – Robert T. Bakker
73. "Man is a two-legged animal without feathers."– Plato
74. "A peacock that rests on his feathers is just another turkey." – Dolly Parton
75. "I am not of that feather to shake off my friend when he must need me." – William Shakespeare
76. "Once you sleep on feathers, you can't go back to sleeping on the floor." – Lenny Bruce
77. "Flight without feathers is not easy." – Plautus
78. "Soft feathers cannot make a cruel bird kind." – Munia Khan
Which of These Feather Quotes Resonates Most with You?
Feather quotes are diverse and interesting – from spiritual and inspiring to funny or fashion related – feathers are everywhere!
If you liked any of these feathers quotes, or you plan on using one on your Social Media Profile, share with us which one and how it has inspired you!
Also, if you happen to know any other good quotes about feathers that were not mentioned in this article, share them with us in the comment section below!
Alexandra, the head author at Subconscious Servant is a Psychologist, Reiki Therapist, and writer. She loves writing about any topic from Applied Psychology, Metaphysical and Spiritual healing, hoping that people on a spiritual, self-discovery journey will find guidance and light through her articles. If you want to read more about Alexandra, visit her full author bio here.