Have you ever met someone and you just knew that you were fated to meet? This is not just a coincidence.
Fate has a strange way of bringing people together and is much more common than you might think.
In fact, there are many powerful quotes that can have a lot of meaning for the many people who believe they have met by fate.
Today we are going to look at over 101 powerful fate meeting someone quotes.
You are sure to find the perfect quote within this list.
Let's get started.
Meeting You Was Fate Quotes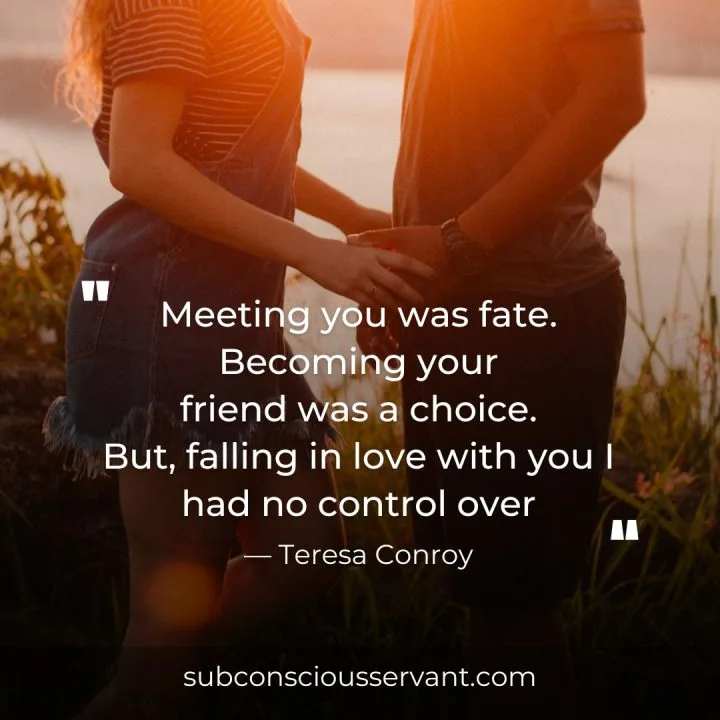 1. "Meeting you was fate. Becoming your friend was a choice. But, falling in love with you I had no control over." – Teresa Conroy
2. "If you are the one, then us meeting here is fate. Future with a dog named Ben, buy a house with a fireplace. This is the first I've seen your face but there is a chance we are soulmates." – Jason Derulo
3. "In life, everything happens for a reason. People meet not by chance but by fate. In meeting however, who cares about reason? I'm just glad we did." – Unknown
4. "Fate brings you together, but it's still up to you to make it happen. We may meet someone by chance, but keeping that someone is still a choice." – Abhishek Tiwari
5. "Met by coincidence, conversated by choice, and fell in love by fate." – Raghib Clitso
6. "Sometimes, you find the right person at the wrong time. Sometimes it is the wrong person at the right time. But when you find the right person, at the right time, in the right situation, it is because you are meant to be together. You feel complete. Fate has grabbed both of your hands. Don't let go." – Unknown
7. "Fate decides who comes into your life, your heart decides who stays." – Unknown
8. "You don't find love, it finds you. It's got a little bit to do with destiny, fate, and what's written in the stars." – Anais Nin
9. "Everything happens when it's supposed to." – Michelle C. Ustaszeski
10. "We weren't meant for each other. We were born to be together." – Lena Elamin
11. "I didn't know you would be here last night, but you were. We can't fight fate. Instead, we must accept that fate has given us a special opportunity." – Lisa See
12. "When I met you on the beach, it was chance. When we sat together at the bonfire, it was circumstance; but when you fell in love with me, it was fate." – Mia Castile
13. "However, I believe everything happens for a reason. There's a reason we met, there's a reason you're here tonight, and there's a reason why I feel the way I do about you. I can't ignore any of that. I won't. I don't fuck around with fate, Maddie. You shouldn't either." – K. Langston
14. "Because even though I didn't always tell you, you've had my heart since the day I met you. Your lips were always my bliss. And I know we weren't sorta like fate. We were exactly like fate." – Jillian Dodd
15. "Fate, Destiny, whatever you want to call it. The point is, maybe we met for a reason." – Once Upon A Time
16. "This was not chance that they met twice, my mother would tell me whenever she recounted this story. It was fate." – Amy Tan
17. "It seemed as if some subtle current of recognition had passed between them … not as if they had met before … but as if they had come close several times until finally an impatient Fate had forced their paths to intersect." – Lisa Kleypas
18. "Meeting you was fate, and falling in love with you was beyond my control." – Unknown
19. "Met by coincidence, conversated by choice, and fell in love by fate." – Raghib Clitso
20. "Since I met you, I've felt abandoned without your nearness; your nearness is all I ever dream of and the only thing I ever want." – Franz Kafka, The Castle
Quotes About Feelings After Meeting Someone By Fate
21. "Ever since I met you, even my feet stopped belonging to me and became yours because all they ever seem to want to do is travel to wherever you are." – Jessie Lane, Secret Maneuvers
22. "It was only after I met you that I felt my heart begin to beat again. The light of your soul pierced through the darkness I let surround mine and brought me back to life. You showed me that there is still beauty in the world. I can't imagine my life without you in it." – S.J. West
23. "I've loved you since I met you, and I will love you for all of eternity. Everything changes, but my love for you never will." – Angela Corbett
24. "I've never felt a connection like this with anyone else. I don't even know how to explain it. I feel like I already knew you before I met you, and the first time I saw you, the first time I talked to you, was incidental, because the connection was already there." – M. Molly Backes, The Princesses of Iowa
25. "Ever since the day I met you, you have made my life better and brighter. You are radiant, caring and beautiful and I am so glad you are mine!" – B.L. Berry, An Unforgivable Love Story
26. "Since the day I met you, I've felt like I could fly. My heart is lighter and when I'm with you, there's no place else I'd rather be. Your beautiful smile has brought my dull world back to life." – K. Langston, Because You're Mine
27. "I've loved you since the day I met you, and I'll love you until the day I die. And I will never, ever believe it was supposed to be any other way." – Melanie Harlow, From This Moment
28. "When we met, there was a pull. Like two magnets unsure of the way we wanted to feel. You told me that night you were afraid of fireworks but loved colors in the sky. And all week I've been wondering if I could be a color you'd want to know." – Courtney Peppernell, Mending the Mind
29. "There's a reason people like you and I find each other. Maybe it's God. Maybe it's fate. But I know it's not an accident that I found you." – Unknown
30. "We might not know we are seeking out people who best enrich our lives, but somewhere on a deep, subconscious level we absolutely are. Whether that bond is temporary or permanent, whether it succeeds or fails, fate is simply a conflagration of choices that combine with others to shape the relationships that surround us. We cannot choose our family but we can choose our friends, and we do, sometimes before we have even met them." – Simon Pegg
31. "I've missed you every single day we weren't together since the moment I met you." – Colleen Hoover, Ugly Love
32. "Meeting you was chance, falling in love with you was destiny, and loving you is my reason to exist." – Mia Asher
33. "Meeting you was not the first day of the rest of my life; it was the first day of the BEST of my life." – Steve Maraboli
34. "I think about those twists of fate, the strange run-ins that can alter everything in the blink of an eye, or the shift of a single season." – Heather Cochran
RELATED: Get Cozy With These 90+ Cuddle Quotes And Sayings
Quotes About Upcoming Fate Meetings
35. "There are no accidental meetings between souls." – Sheila Burke
36. "We click. There aren't that many people that you just 'click' with; and when you find those people, you don't just let them go." – Unknown
37. "Important encounters are planned by the souls long before the bodies see each other." – Paulo Coelho
38. "When you meet that special someone, you'll understand why it didn't work out with anyone else." – Unknown
39. "I think we're given multiple chances to meet multiple soulmates. Sure, you could meet a soulmate in high school. But that doesn't mean if you don't act on it, you'll never meet anyone else. You will, just at a time that's more convenient for you." – Meg Cabot
40. "You can meet thousands of people and none of them will touch you. And then one day, someone can come in and touch your soul and before you know it, your life has been changed forever." – Jamie Randall, Love & Other Drugs
41. "When the soul is ready, its mate will appear." – Unknown
42. "I'm convinced my heart knew who it belonged to, long before I met her." – Karla Campos
43. "A soul mate is not found. A soul mate is recognized." – Vironika Tugaleva, The Love Mindset
44. "Though soulmates aren't looking for you, they will find you." – Kevin Ansbro
45. "Your soulmate will be the stranger you recognize." – r.h. Sin
Philosophical Fate Meeting Quotes
46. "If the right man does not come along, there are many fates far worse. One is to have the wrong man come along." – Letitia Baldrige
47. "You often meet your fate on the road you take to avoid it." – Goldie Hawn
48. "Sometimes you just have to wait for fate to make its move." – Unknown
49. "Fate controls who walks into your life, but you decide who you let walk out, who you let stay, and who you refuse to let go." – Unknown
50. "Accept the things to which fate binds you and love the people whom fate brings you together, but do so with all your heart." – Marcus Aurelius
51. "Don't ever rush fate. The best things in life are worth the wait." – Nishan Panwar
52. "It's never luck or fate, it's God's perfect plan." – Stephen Samuel
53. "After all, love is all about timing. If you don't say the right thing at the right moment no matter how much fate was involved in the relationship, everything will be ruined. Even if you regret it, it will be too late." – Bokura Ga Ita
54. "You don't find love, it finds you. It's got a little bit to do with destiny, fate, and what's written in the stars." – Unknown
55. "Have faith in fate. Your destiny is tailor-made for you." – Tapan Ghosh
56. "You aren't always shown the path in life you're supposed to take. But if there was one thing she'd learned in the past few weeks, it was that sometimes, when you're really lucky, you meet someone with a map." – Sarah Addison Allen
57. "The future is not in the hands of fate, but in ours." – Dennis L. Bark
58. "Love the people with whom fate brings you together." – Marcus Aurelius
59. "Fate is like a strange, unpopular restaurant filled with odd little waiters who bring you things you never asked for and don't always like." – Lemony Snicket
60. "I really believe in fate and that everything happens for a reason. There's always a plan. Even things that happen to you that feel like an obstacle or a disaster in the moment will pave the way for your next step." – Fala Chen
61. "Fate – everything happens for a reason. And when fate happens look for the good in it as it is there." – Catherine Pulsifer
62. "When it comes to life, we spin our own yarn, and where we end up is really, in fact, where we always intended to be." – Julia Glass, 'Three Junes'
63. "Fate never knocks at the wrong door, dear. You just may not be ready to answer." – Saralee Rosenberg, Fate and Ms. Fortune
64. "I wonder how many people don't get the one they want, but end up with the one they're supposed to be with." – Fannie Flagg, Fried Green Tomatoes at the Whistle Stop Cafe
65. "There's a reason people like you and I find each other maybe it's God maybe it's fate but I know it's not an accident that I found you." – Unknown
66. "Fate pulls you in different directions." – Clint Eastwood
67. "Do not be afraid; our fate cannot be taken from us; it is a gift." – Dante Alighieri, Inferno
68. "There's nowhere you can be that isn't where you're meant to be" – John Lennon
Fate Quotes About Meeting Someone
69. "Some things are destined to be – it just takes us a couple of tries to get there." – J. R. Ward, 'Lover Mine'
70. "Fate is not quite as strange as it appears!" – John McLeod
71. "Love is our true destiny. We do not find the meaning of life by ourselves alone – we find it with another." – Thomas Merton, Love, and Living
72. "And haven't you already changed their fate just by meeting them and coming in to their lives?" – OKAYADO
73. "Hey Nana, do you remember the first time we met? I beleive in things like fate.
So I think it was fate." – Ai Yazawa
74. "We are partners by fate. We become friends by choice." – Jacquie McTaggart
75. "Each meeting occurs at the precise moment for which it was meant. Usually, when it will have the greatest impact on our lives." – Nadia Scrieva
RELATED: Written in the Stars? 27 Signs of Fate to Be with Someone
Song Titles And Lyrics With Fate Meeting Someone Quotes
76. "Call it fate, destiny, call it luck you ended up with me But some things are meant to be Coincidence, circumstance Or something bigger thats just out of our hands But some things are meant to be." – Sammy Kershaw
77. "We've got no fairytale ending, in God's hands our fate is complete. Your heaven's here in my heart, our love's this dust beneath my feet." – Bruce Springsteen
78. "What's meant to be will always find a way." – Trisha Yearwood
79. "One love, one heart, one destiny." – Bob Marley
Movie And TV Fate Meeting Someone Quotes
80. "People linked by destiny will always find each other." – TV series, The Watcher
81. "It's funny how fate works. I had no idea that the cage I was building all this time was a trap for me. And when I found myself here locked in, I thought this was the end. But that's now how destiny works. This was just the beginning because this is where I had to be, exactly where I had to be, with you." – TV series, You
82. "Fate, or some mysterious force, can put the finger on you or me for no good reason at all." – Movie, Detour
83. "It was my fate to meet her." – Movie, Slackers
84. "Hello, Cherie. We meet again. Is it fate? Is it meant to be? Is it written in the stars that we are destined to fraternize?" – Movie, The Mask
85. "Call it fate, call it luck, call it karma. I believe everything happens for a reason." – Movie, Ghostbusters
86. "Things don't happen for a reason. They just happen." – Movie, Proof of Life
87. "What can I say? When you know, you know." – Movie, What Happens in Vegas
88. "Fate intervenes in people's lives. In ours, for instance. Fate brought us together. It kept us together. We were destined for one another." – Movie, A Life Less Ordinary
Heartbreaking Fate Meeting Someone Quotes
89. "Then you don't know. You can't know what it feels like to meet a person and suddenly know without a doubt that the whole purpose of your life so far – every choice you made, every twist of fate along the way – was just a journey to get you to that person. My life started when I met Clea. Every minute without her is just killing time until we can be together again." – Hillary Duff
90. "She was darkness and he was darkness and there had never been anything before this time, only darkness and his lips upon her. She tried to speak and his mouth was over hers again. Suddenly she had a wild thrill such as she had never known; joy, fear, madness, excitement, surrender to arms that were too strong, lips too bruising, fate that moved to fast!" – Margaret Mitchell
91. "And if you really need him, fate won't let you lose him. Fate will bring him back. It may not be soon, but he'll come back." – Unknown
92. "Don't be dismayed at goodbyes. A farewell is necessary before you can meet again. And, meeting again after moments or lifetimes is certain for those who are friends." – Richard Bach
93. "A sad thing in life is when you meet someone who means a lot to you, only to find out in the end that it was never meant to be and you just have to let go." – Unknown
RELATED: 101+ Heartfelt "I Need You" Quotes That Express How You Feel
A Few More Fate Meeting Someone Quotes
94. "Fate brings people together no matter how far apart they may be." – Chinese proverb
95. "When it's time for souls to meet, there's nothing on earth that can prevent them from meeting." – Unknown
96. "What I want is for the two of us to meet by chance on day, like passing on the street or getting on the same bus." – Unknown
97. "We meet the people we're supposed to meet when the time is just right." – Alyson Noel
98. "If meeting you was fate, then fate is something so beautiful and worth a meet." – Arnav Aarush
99. "My whole life has been pledged to this meeting with you." – Alexander Pushkin
100. "When it's time for souls to meet, there's nothing on earth that can prevent them from meeting, no matter where they are located." – Jaime T. Lichauco
101. "The best love is unexpected. You meet them by fate and it's an instant connection." – Unknown
102. "Meeting someone is fate. But, keeping them, at any rate, is intricate." – Unknown
103. "We met for a reason. Either you're a blessing or a lesson." – Frank Ocean
104. "If two hearts are meant to be friends, no matter how long it takes, how far they go, how tough it seems, fate will bring them together to share friendship forever." – Unknown
Which Fate Meeting Someone Quotes are Your Favorites?
Chances are you have been able to relate to many of the quotes listed in this article.
Which fate meeting someone quotes are your favorites?
Are there any favorite quotes that we may have missed? Maybe you have a favorite saying about meeting someone by fate that you would like to share with the world.
We hope you have enjoyed this article and found some new quotes you can use when you share wisdom about fate meetings.
Maybe you even found a few that you already heard before, but forgot about. Either way, I hope you enjoyed them!
Alan is the founder of Subconscious Servant. He has a passion for learning about topics such as spirituality and the metaphysical world. The thing he loves to explore most though is manifesting with the law of attraction ✨.